This work is licensed under a

Creative Commons Attribution-ShareAlike 2.5 License

.

Part of a series of hand-beaded necklaces featuring carvings from

Firewood Studio

.




To see more of Katryna's work, or to order the necklace show, visit

Baby Bug Beads

.

Katryna High Twilbeck has been making jewelry since childhood, when her creations were built from pine needles or insulated telephone wire. These days, her favorite materials are wood carvings (

from Firewood Studio

) and polished oyster shells (from local beaches).

The whimsical name of Katryna's business comes from her youngest "employee" — her three-year-old daughter, pictured above with Dad. A conscientious beader, she usually strings at least one bead on each item, and always offers her suggestions and compliments.

When she's not beading, Katryna stays busy with a full-time job as a special-needs teacher in Biloxi.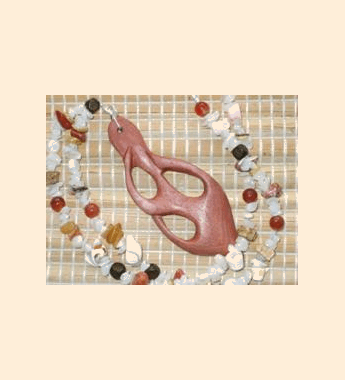 Baby Bug Beads —
Christmas 2006 Gulf Coast Online Shopping



"Carved Hand-Beaded Necklace"